Bob Paisley has confirmed that Craig Johnston, whose only appearances since his transfer last April have been as substitute, will start alongside Kenny Dalglish in attack. Skipper Phil Thompson is fit and will return to the defence with Mary Lawrenson moving to left back to replace Alan Kennedy.

Tomorrow's match will be watched by a worldwide TV audience of more than one billion. It is being beamed to more than 40 countries with nine of them, including Brazil, screening it live. Viewers in two European countries, Italy and Holland, will also be able to see the match as it happens despite the 3 AM kick off time (12 noon in Tokyo). British viewers will see only edited highlights on ITV tomorrow afternoon.

Bob Paisley has prepared his team for any eventually and has ordered them to avoid trouble at all costs. "Our players have been told not to get involved and to lie down if necessary - and it isn't often you can ask British players to do that" he said. "Our pride as well as our country's is at stake. We just hope we can thrill the Japanese crowd and help to make the match a good advertisement for football".

FORM GUIDE
On the previous Tuesday, Liverpool won 3:0 after extra time against Arsenal at Anfield in the League Cup 4th round replay. The match had ended 0:0 after 90 minutes. Craig Johnston broke the deadlock early in the first half of extra time. A penalty from Terry McDermott and a goal from Kenny Dalglish set up a 5th round tie against Barnsley at Anfield. Three days earlier, Liverpool won 2:0 against Nottingham Forest at the City Ground in the League. Both goals came in the second half from Mark Lawrenson - his first for the club - and Ray Kennedy - his last for the club.

Previous Five Matches:


Liverpool, who are sponsored by Hitachi, the Japanese electronics company, will be unable to advertise the fact here. UEFA and television rules prohibit shirt advertising.

Liverpool's fears that the World Club Championship match tomorrow might erupt into a violent confrontation were dismissed by Zico, Brazil's leading player, when Flamengo arrived here last night. Zico, drawn and haggard and looking slightly less than a superstar after a 13 hour flight made a promise. "This fear has grown from the English because of games in the past involving Uruguayan and Argentinian teams, but that does not happen with Brazilian teams" he said. "We know too that we need not expect violence from an English team. I can tell them they won't have any from us".

Dublin is favourite to stage the European Super Cup Final between Liverpool and Dinamo Tbilisi. The two clubs met UEFA officials in Zurich yesterday to arrange a one-off sponsored "showdown" because the usual two-legged affair would be a financial and administrative disaster. All parties have agreed in principle to a one-off match and only the venue remains to be decided. The Middle East, possibly Dubai, was suggested, but UEFA want to keep the final in Europe. Lansdowne Road meets all the requirements. It can guarantee a big crowd and has facilities for TV which would attract a sponsor.

General view of the Stadium before the start of the match

Liverpool tackle their last Everest
by Michael Hart © The London Evening Standard
Liverpool, perhaps the most successful club in the history of the domestic game, attempt to become the first British team to win the World Club Championship in Tokyo on Sunday. A crowd of 62,000 inscrutable Japanese - quite what they see in a game between two foreign clubs is a mystery to me - will watch the European Champions clash with the South American Champions, Flamengo of Brazil. The Brazilians were something of an unknown quantity, although the remarkable skills of their finest player, Zico, are recognised worldwide. Nonetheless this is a match that Liverpool, playing to their potential, can win. For them it is the last unscaled peak, the last big challenge.

They have won everything else in the game at a canter, and I sense that they are now paying a price of sorts for their incredible success. On Wednesday night, I drove with Ian St John to Anfield for the League Cup tie against Arsenal. It was my first visit this season and I couldn't help but notice how the atmosphere has changed. The journey to the ground was traffic-free and we parked a goal-kick from the stadium 30 minutes before the kick-off. "Not too long ago you wouldn't park anywhere near the ground unless you arrived at least an hour before the start" said St John. The attendance for the Arsenal game was 21,375.

They have had three smaller gates, the lowest being the 11,478 against Exeter in the League Cup. The average attendance for a first team game at Anfield this season is just over 31,000. The recession is biting particularly hard on Merseyside and the lack of money, coupled with the cost of tickets these days, is the major reason for the declining interest. But that is not the only reason. Getting to the top is hard, but staying there can be harder still. In the last 10 years, Liverpool have won the European Cup three times, the UEFA Cup twice, the League title five times and sundry other bits and bobs like the FA Cup and League Cup. I have come to look upon Anfield as the cathedral of English club football. It is the St Pauls of the Football League, a majestic stadium with a majestic team designed for the big occasion.

Yet, you walk into the place nowadays and it's like walking into any other ground. I suspect the Anfield crowd have become a little blase. The other day, manager Bob Paisley was even appealing to the faithful to give greater vocal support. You can't really blame them for their complacency. They have tasted only the best in the last few seasons. The same applies to the players. I sense that their hunger to achieve is not as strong as it was. Players like Neal, Thompson, McDermott, Souness, Kennedy, Dalglish and Johnson - the hard core of the team, in fact - have achieved practically everything already. In past seasons, their desire to win the League title made them almost invincible at Anfield.

This season, handicapped perhaps by a pitch that has deteriorated alarmingly, they have won only three of their eight home league games. Their formidable defence reputation is not what it was. In 16 First Division games this season they have conceded 16 goals - the number they conceded over 42 games in 1978-79. They are currently 10th in the table although they have reached the last eight of the League Cup and the European Cup. I think they need the fresh impetus that one or two new faces would provide. Players like Ian Rush, Ronnie Whelan, Craig Johnston and Mark Lawrenson have yet to savour life at the top.

For the other, perhaps the novelty of the World Club Championship in Tokyo might stir them to former glories. It is the one ascent they have never attempted. Three British clubs have tried and failed. In 1967 Argentina's Racing Club beat Celtic. In 1968 Esteudiantes from Argentina beat Manchester United and, last February, Nacional of Uruguay beat Nottingham Forest. "We are the first British club to win the European Cup three times and we want to be the first to win the World Club Championship" said Paisley "We are going into the match blind because we have not being able to assess the opposition. But we certainly don't have a couldn't care-less attitude. There is a great deal of prestige at stake. We have our reputation to uphold and enhance".
Nunes twists the Brazilian knife
by David Lacey © The Guardian
Liverpool made the long and tiring journey to Tokyo for a lesson in finishing which, on better days, they would not have needed. Flamengo, the South American champions, casually won the Toyota-sponsored World Club Championship in front of a crowd of 62,000 in the Olympic Stadium, the game ending as a contest once the Brazilians had established a 3-0 half-time lead. While giving Flamengo full credit for their victory, Liverpool were the first to admit that they themselves were way below their best.

Both Phil Thompson and Bob Paisley criticised the pitch as being hard and bumpy, which it certainly was, but this factor merely emphasised the superior technique of the Flamengo players. Thompson said the Brazilians had been at an advantage because they were accustomed to such conditions. Well, some of the pitches in Brazil may be bumpy but the field in the Maracana Stadium in Rio, lush and long-grassed, is hardly akin to the one in Tokyo. The skill and wit of Zico and the accurate shooting of Nunes had more to do with Flamengo's victory than the pitch; both received cars from the sponsors as match rewards.

After 13 minutes, Zico's beautifully-flighted pass dropped over the head of the hapless Thompson and Nunes ran on to clip the ball neatly past the advancing Grobbelaar. Just past the half hour, Flamengo were awarded a free-kick near the edge of the Liverpool penalty area and worked a familiar Brazilian manoeuvre. As Zico ran in to the kick, a Flamengo player moved out of the wall, leaving a large gap. Zico's shot went through it, Grobbelaar could not hold the ball and Adilo forced in the second goal.

The third came four minutes before half-time when Zico sent Nunes clear and on-side in the inside-right position. Nunes scored with a precise shot from a narrow angle and the rest was a formality although Grobbelaar made several sharp saves in the second half. Craig Johnston was Liverpool's most effective attacker but this was small consolation for their disappointing performance overall.




Bob Paisley, the Liverpool manager commented "I have never seen our team so dull, so lacking in ideas and aggression. I simply cannot understand it".

Phil Thompson, the captain, said he was sorry that "we didn't do English football justice on the day. We let them dictate the pace of the game. We should have tried to quicken it up instead of attempting to match them at their slower tempo. We never played as we can do, and everyone knows we can do".

Balloons are released prior to the teams entering the field
Paisley is stunned by his "dead" team
by Derek Wallis © The Daily Mirror
Manager Bon Paisley slammed his Liverpool side for an "unbelievably dead" performance in their Toyota World Club Championship defeat here. After watching the European Champions crash to Flamengo of Brazil, a bitterly disappointed Paisley said "I have never seen us so dull physically and mentally as we were in the first half. I've no explanation for it. We lacked ideas and aggression. We gave away two stupid goals and the third was obviously offside. Possibly the violence of previous world club matches didn't do us any favours because we were determined not to get involved. But we looked slow in the head and I find it unbelievable. We were so dead".

Without making excuses, Paisley criticised the scorched earth pitch in the Olympic stadium. "It gave the advantage to the type of game the Brazilians play" he said. Ray Kennedy admitted "It was embarrassing being a Liverpool player in the first half, because of our attitude. We were alright in the second half but, by then, it was too late". Skipper Phil Thompson said "We never played like we can. I am sorry we didn't, for the sake of English and European football. We were a little bit better in the second half but we didn't get the shots in we should have done".

The incomparable Zico, who won a Toyota car as the player of the match, fashioned all three goals - from Nunes (13 minutes), Adilo (34) and Nunes again (42). Liverpool were so short of players that could complete moves like the Brazilians that the match was well into the second half before Craig Johnston, the 21-year-old Australian playing his first full match in the senior team, made the first worthwhile shot to test goalkeeper Raul. Johnston was the only Liverpool player apart from keeper Bruce Grobbelaar, who twice saved his side with spectacular saves, to make any sort of impact.

Ray Kennedy said "I just hope we don't face that lot again if we manage to retain the European Cup. They were brilliant and, on that surface, they held all the cards".

Flamengo coach Paolo Cesar said "We were magnificent in the first half when I thought Liverpool were very disappointing. We played Zico further back than usual and, though he did not score, he did most of the damage".





| | |
| --- | --- |
| | Arthur Antunes Coimbra - or Zico as he is better known - was, arguably, the best player in the world during the late 1970s and early 1980s. He was an attacking midfielder who had incredible technical ability and vision. He is considered one of the finest passers of the ball of all time. Between 1971 and 1983, he played 506 matches for Flamengo, scoring 378 goals and winning all the major trophies. He spent two years with Italian club Udinese before returning to Flamengo and finishing his career in the Japanese J League. He played 71 times for Brazil scoring 48 goals. He later coached in a number of countries including Japan. |
Lesson for Spain as Reds crumble
by Ian Hargraves © The Liverpool Daily Post
Liverpool's hopes of becoming the first British team to win the World Club Championship were dashed in no uncertain manner here today when they were comprehensively outplayed by a brilliant Flamengo side at the Olympic Stadium. And the manner of their defeat sounded an ominous warning to the supporters of England, Scotland and Northern Ireland who will be contesting the World Cup in very similar circumstances in Spain. On a bone-hard pitch which made the ball bounce to unaccustomed heights, the European Champions were no match for opponents whose close control and technical skills made them masters.

As Liverpool manager Bob Paisley conceded afterwards "Flamengo were much the better team on the day. Their technique was better than ours on that surface but I think we could have given them a much harder game. The first half was terribly disappointing because we let them slow the game down and never put them under any real pressure. I don't know what went wrong. The lads were all told to avoid getting involved in any incidents because of the importance of the occasion and, possibly, that may have hindered them playing their natural game. We gave them two silly goals early on and the third should not have been allowed because the scorer was offside, so really the match was over by half-time".

In fact only 12 minutes had gone when Liverpool's first major error was punished in a cruelly clinical manner. Zico, playing deeper than expected and showing rare delicacy of touch, floated the ball over Thompson's head and as Hansen and Grobbelaar waited for the bounce, centre forward Nunes nipped in to steer it into the net. It was a shattering blow and one from which Liverpool never recovered though they more than held their own territorially. Whereas Zico, Adilo and Nunes never needed more than a single touch, Liverpool's moves seemed slow and predictable; rarely generating danger.

The Brazilians, playing their 77th game of the season, stroked the ball around with loving care and always had time to spare. Their control was instant, their inch-perfect passing a joy to watch and, possibly most important of all, their finishing was to the same professional standard. Full back Junior, recently named Brazil's player of the year, thundered a deadly warning when he volleyed a Tita corner just wide from fully 30 yards and, soon after, Zico showed his expertise. After a frustrated McDermott had pulled down Tita some 10 yards outside the box, Zico hit a fierce free-kick that bounced awkwardly before rebounding from Grobbelaar's chest and allowing Adilo to score.

Nunes banged in a third goal with a beautifully placed shot from an angle, and Andrade would have added a fourth with a wickedly swerving effort but for a marvellous save by the Liverpool goalkeeper. However, fortunately for Liverpool, Flamengo were content to start their end-of-season Hawaiian holiday 45 minutes early and played possession football at little more than a walk throughout the second half. Liverpool pressed continuously but made little impression even after the replacement of McDermott by David Johnson and there were moments when Junior and company seemed almost bored at the lack of action.

Craig Johnston, playing his first full game for Liverpool, was easily their best player and did put two shots on target. There can be no doubt at all the Flamengo are an exceptional side or that European teams are going to find Brazil a rare handful in Spain. Three of Flamengo's stars - Zico, Junior and Leandro - are sure to be taking part in the World Cup and if Brazil have better players than coloured midfield artist Adilo and the long-haired high-stepping centre forward Nunes, they must be better off than England.

In a spectacular setting adorned by girls, bands women in colourful uniforms, thousands of balloons, and all the glamour that is associated with Olympic Games, Flamengo really looked the part. Sadly the same could not be said of Liverpool whose desperate efforts only underlined the folly of undertaking such a major mission without adequate preparation. England, you have been warned!

---

Bruce Grobbelaar suffered a dreadful blow when he was informed after the match that his father had passed away in South Africa 24 hours previously. Relatives told Liverpool officials the tragic news before the match but specially requested that Grobbelaar should not be informed until it was over. He was flying back to London with the team last night but then hopes to catch another flight to South Africa to attend his father's funeral. He was clearly badly affected by the news but recovered in time to answer questions about the game an hour or two later. "It was not a game I shall want to remember" he said "It is a great country and I'd love to come back again but, just now, I am not feeling very happy".

Zico takes on Ray Kennedy and Alan Hansen


The referee talks to Terry McDermott after a foul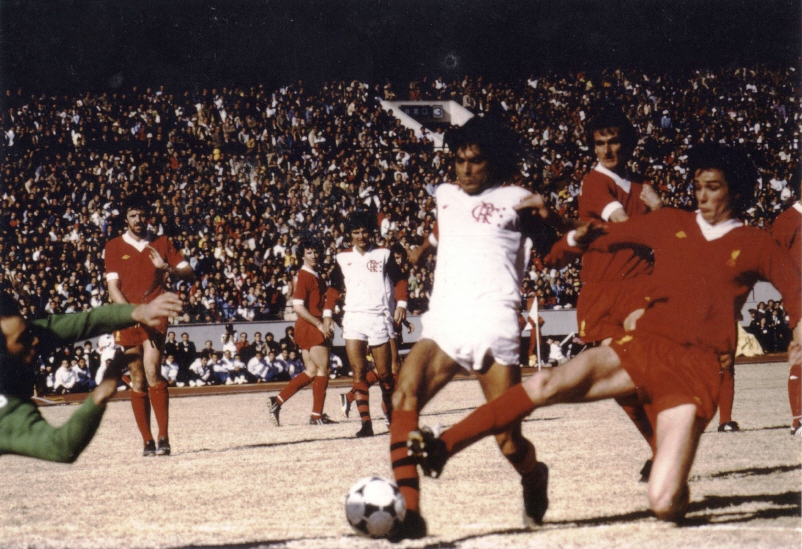 Grobbelaar saves from Lico after a free kick


The ball rebounds to Adilio to score the second goal


Nunes scores the third goal


Adilio and Graeme Souness


Tita holds off the challenge from Terry McDermott


Mark Lawrenson tackles Leandro


Tita takes on the Liverpool defence


Substitute David Johnson in action


Antonio Augusto Dunshee de Abranches with Nunes


Zico holds up the Toyota Cup

Photographs courtesy of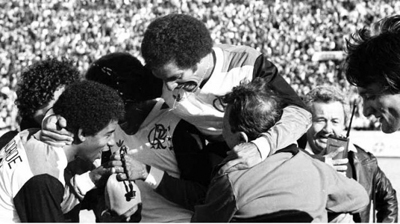 Flamengo players celebrate the victory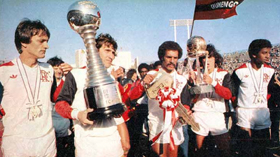 The players parade the trophies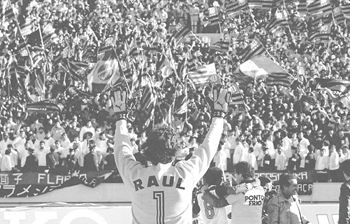 Goalkeeper Raul salutes the supporters
| | |
| --- | --- |
| Marinho with his winner's medal | The medal's inscription |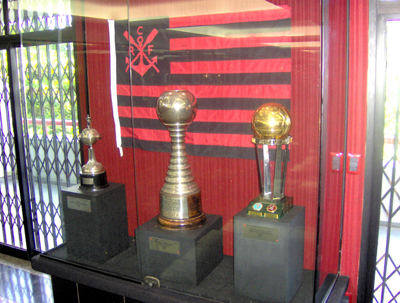 The Libertadores Cup, Toyota Cup and the World Club Championship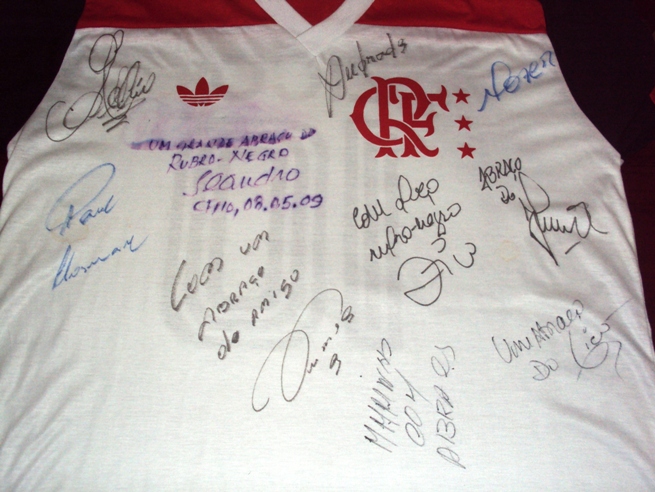 Replica shirt autographed by 10 of the Flamengo team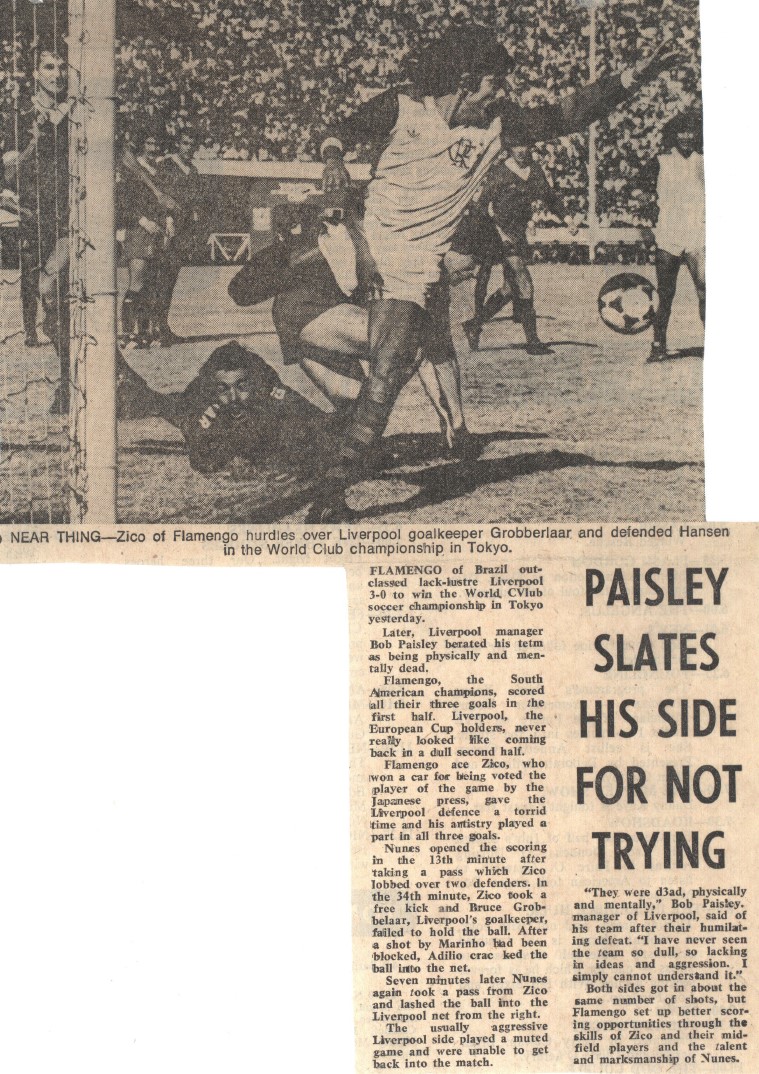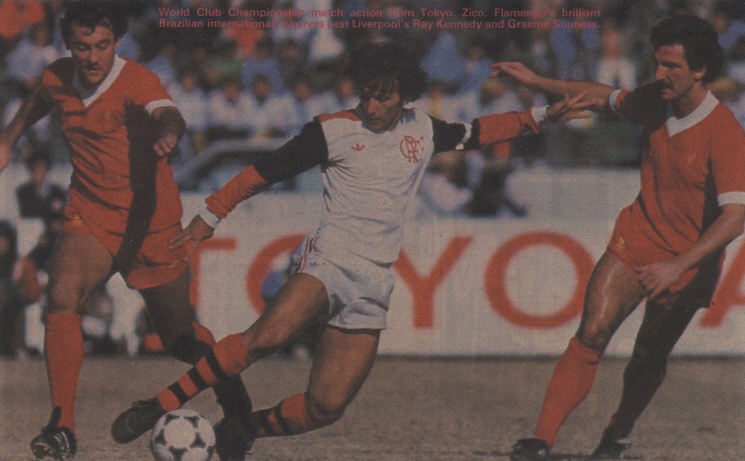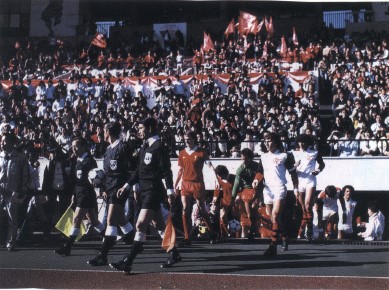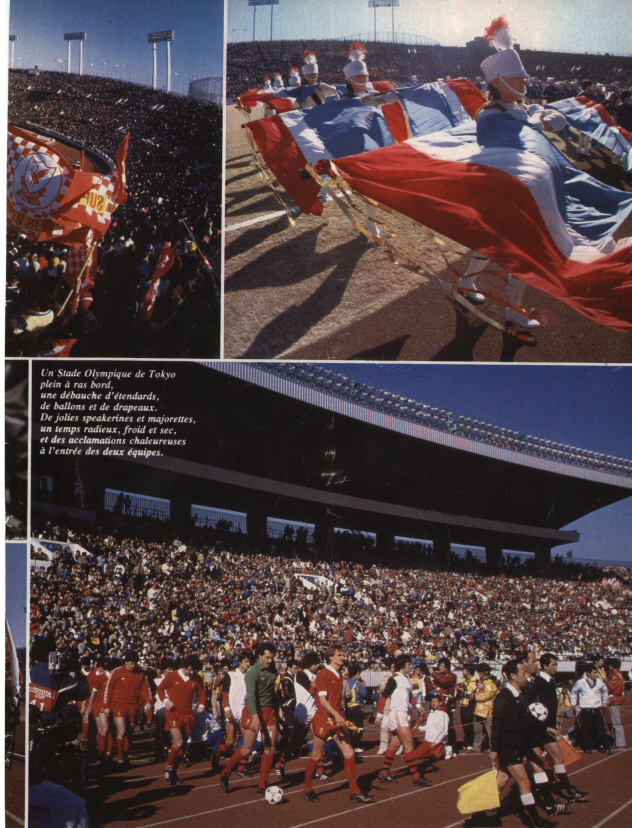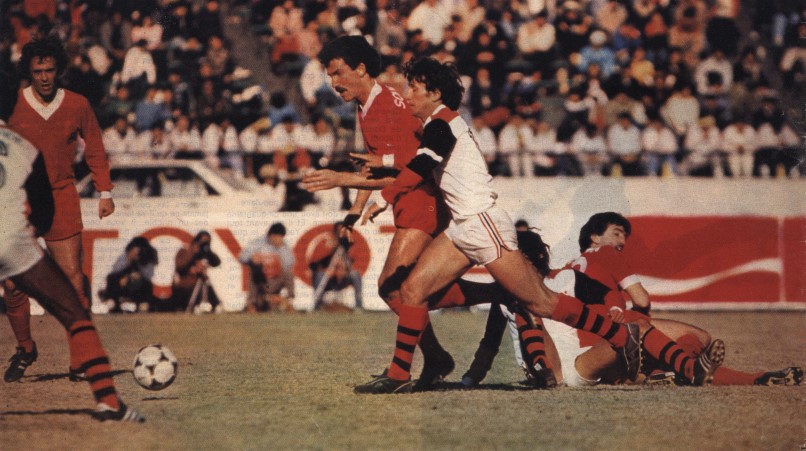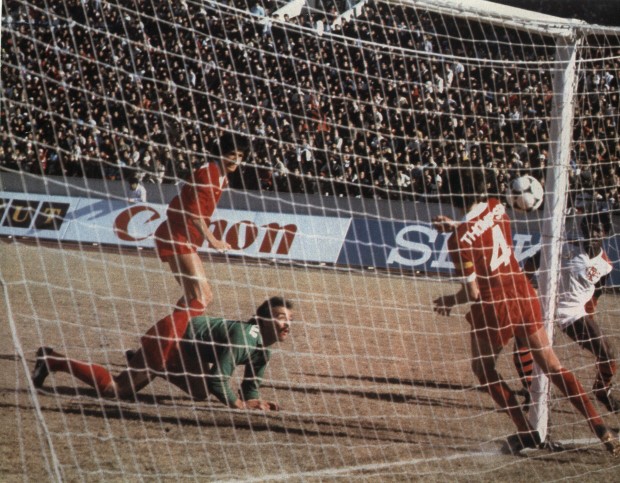 France Football magazine reviews the Final.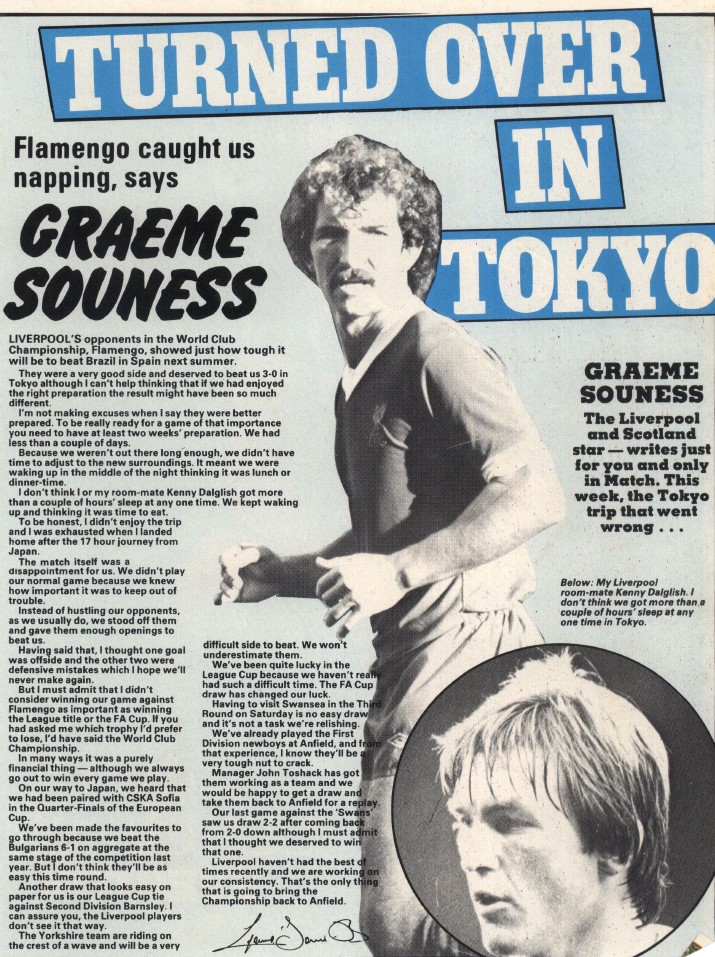 Article from Match Weekly magazine. © EMAP National Publications.